We sent 32 athletes rowing in 21 events achieving 7 first, 3 second, and 2 third place finishes.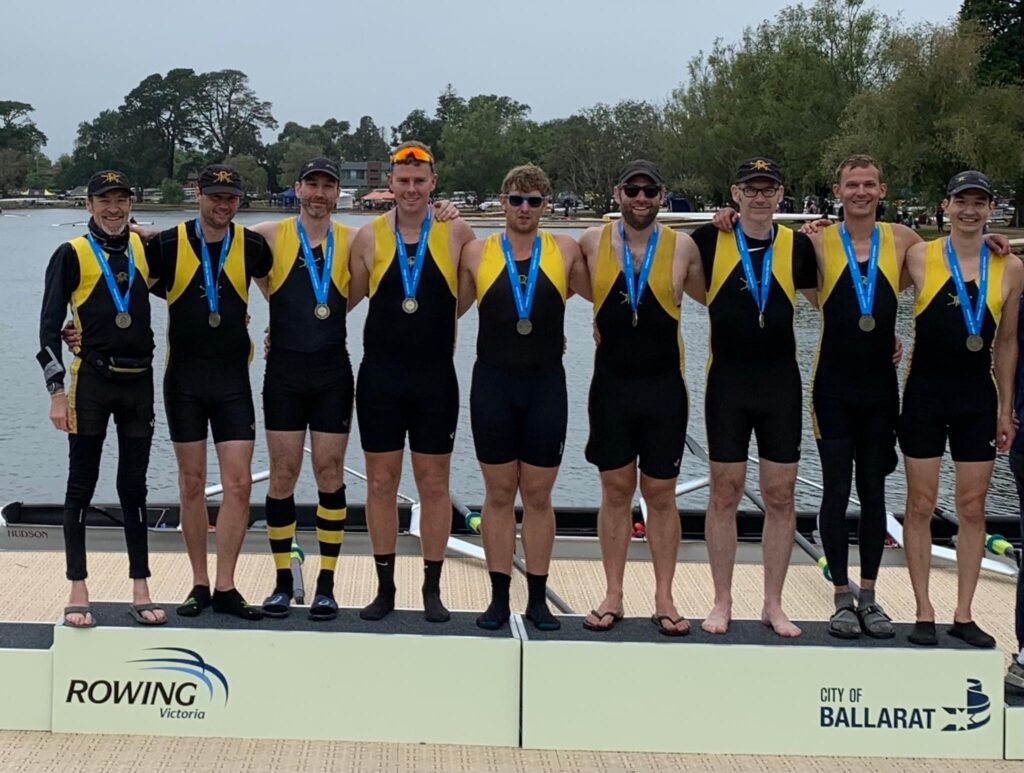 first
FO2x/ K. Dyball, M. Joy 8:15.45
FClub4x/ Z. Maxwell, K. Doggett, M. Joy, K. Dyball 7:57.52
MC8+/ K.Wong, L.Mckee, A.Pupko, T.Gruner, R.Healy, A.Reid, C.Moechyi, R.Skelton, Cox: P.Tran 3:38.89
FB4x+/ C.Crouser, K.Fergie, H.Pearce, G.Goss, Cox: M.Joy 4:11.96
FC2x/ J.Huang, W.Emptage 4:41.41
MB8+/ P.Oborin, J.Hellerstedt, J.Roberts, M.Gehling, I.Balemi, B.Wardle, J.Carey, A.Randall, Cox: D.Begg 3:28.11
FA4x+/ Z.Maxwell, K.Doggett, M.Joy, K.Dyball, Cox: C.Crouser 4:05.14

second
MB4+/ J.Roberts, A.Randall, J.Carey, D.Beck, Cox: D.Begg 3:59.87
MC4x+/ R.Skelton, L.Mckee, A.Pupko, R.Healy, Cox: K.Howard 4:16.18
FC1x/ J. Huang 4:30.7

third
MC1x/ K. Wong 4:52.14
FB2x/ H. Pearce, K. Fergie 4:31.04
Thanks for Captain Kim's calm management of the trailer loading & towing, as well as Amy C.'s BROing on Sunday & intimidatingly fresh 'gram game at the finish line.
Some thoughts from Sunday:

Cold, windy, constant threat of rain
8am
Arrive to find out they've already cancelled the master's qualifying races, conditions on the lake that make you want to get back in the car and drive home.
Get the boats down nevertheless.
9am/ 1050am
MB2x was a smart row in the heat but couldn't put it together in the final.
The feeling of trailer inadequacy when walking by the six burner dedicated flattop camp kitchen pumping out eggs&bacon. Vow to investigate turning the RRC trailer into a lifestyle road train.
Decent dirty burger from the caravan but not enough colour on the chips.
MC8+ set the stage by nearly getting open water on Hawthorn with a decisive 7s victory.
1354
MB8+ rowed like it trained. Perfect heterogeneous mix of nervous energy and calm execution of familiar patterns. Fast, brutal start to stay with the schoolboys and then hold on and lay down power to pull away and keep pulling away for a first by five seconds over Gippsland Grammar.
1514
Quick turnaround to the MB4x+ heat, staying smart and third in the cluster to get into what was looking to be an extremely fast final.
1630
No one coming off the water in small boats had anything fun to report, and tents were starting to turn into tumbleweeds.

The ominous "racing paused for 30 minutes" followed through with the cancellation of the remainder of the regatta.

Decent amount of podium potential unrowed for Richmond.

1900 boats washed and back in the shed in 69 minutes. JH, PO, GG, KD, MJ, KB, IB, JC, AH