We had a big day on Sunday 11th December with club races, boat naming and the club Christmas lunch. Thankfully the weather was glorious for most of the day, only turning to showers at the very end.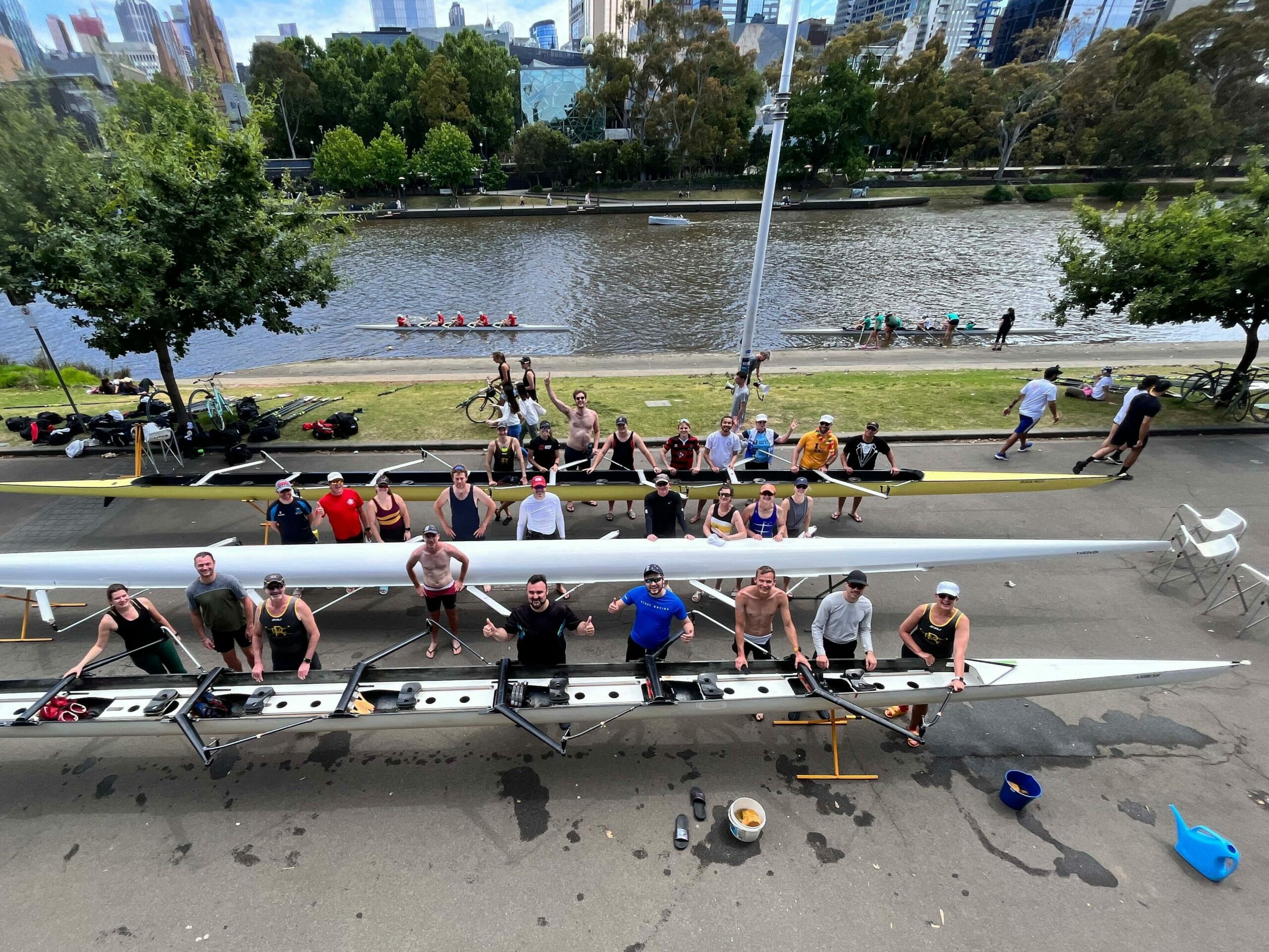 Club races
3 Richmond eights were ready and keen for the splash and dash 300m course and the competition was fierce.
Ambush – coxed by Jack: Cynthia, James, Millie, Alex, Rohan, Pat, Allan, Tim E
D. Begg – coxed by Kathy: Caley, Keith, Pavel, Mikey G, Tom, Kim, Sep, John B
Minerva – coxed by Will: Rebecca, Emily B, Lily, Anthea, Andrew, Ben, Dennis and Justin, who also ended up winners! Well done to all participants.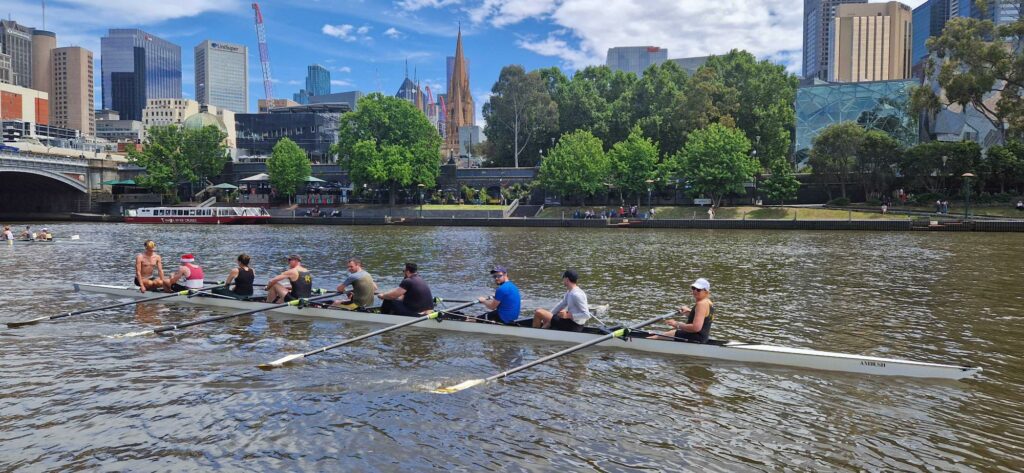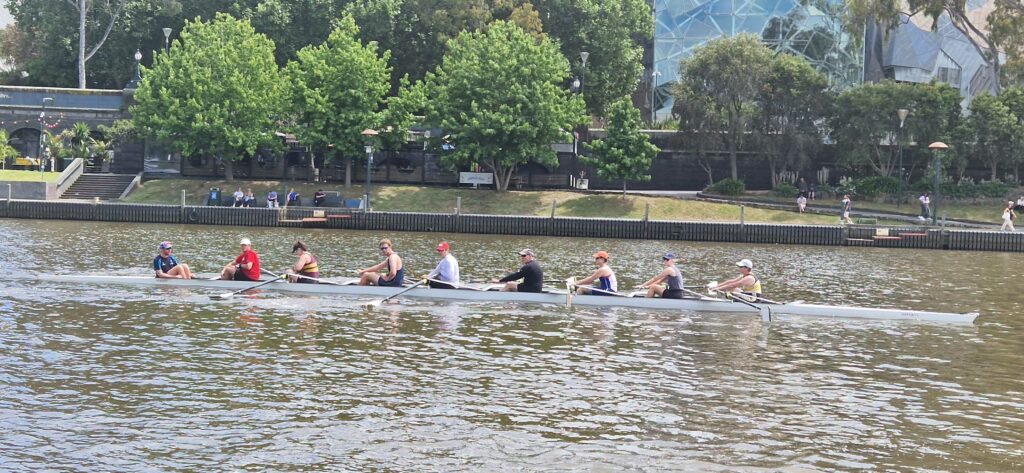 Boat naming
Richmond RC is very lucky to have acquired a beautiful Hudson 8, graciously donated by the Sullivan family and sponsored by Leemark. Heartfelt thank you to Chris and Leigh Sullivan for their incredibly generous gift, which will no doubt be appreciated for many years to come.
The boat naming celebration was setup at the front of the club and the 8 has been christened the "Minerva", roman goddess of wisdom and counterpart to the Greek deity Athena. She was the goddess of justice, strategic war and victory, who emerged fully formed and armoured from the head of her father Jupiter. More importantly, Minerva is also the name of one of Richmond RC's very first boats in the 1863 original fleet. An apt name and a lovely throwback to the club's origins.
Christmas lunch
All our squads came together to decorate the hall & make sure we were in full festive spirit for the afternoon. The food was delicious, crackers popping with terrible jokes enjoyed by all, along with spectacularly Christmassy music. But the best part as always was the company.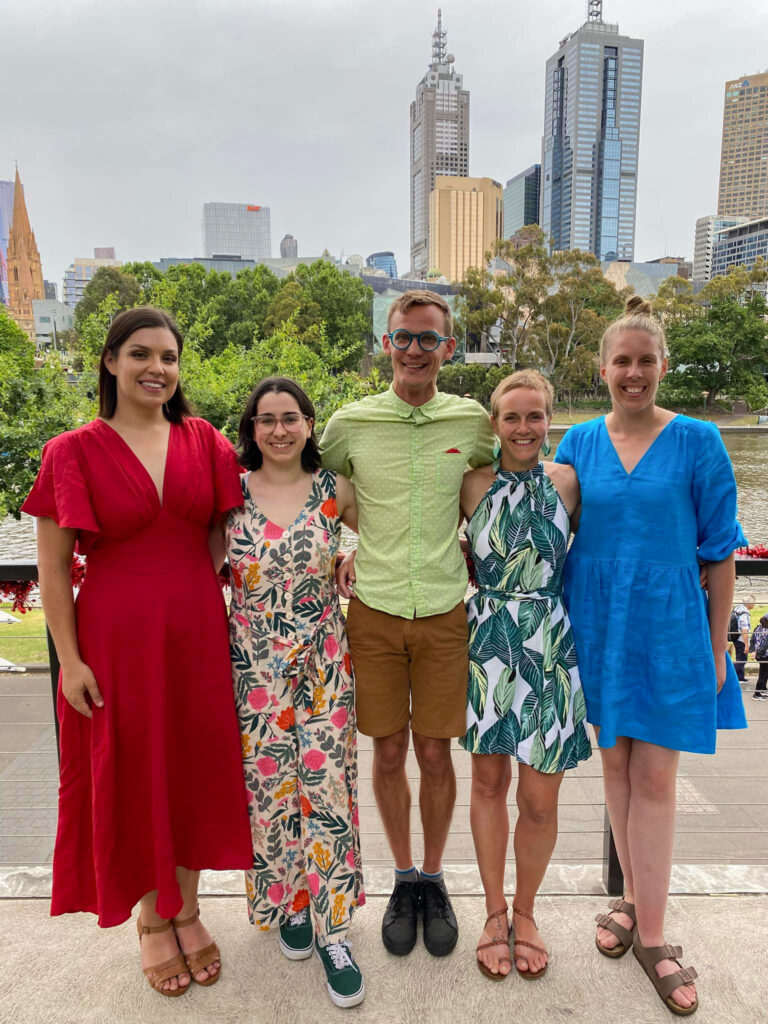 Thank yous
Helen Pearce – Event organisation, marketing & desserts
Christine Sullivan – Club race logistics & crews
Will Golding, Jack Hellerstedt & Kathy Macrow – Coxing for club races
Amy Catlin – Christmas lunch catering
Diana Vernon – Serving food
Anthea Amos, Kathy Macrow, Dennis Beck, Amy Catlin, Lily Innes-Irons, Kim Begelhole & Ally Dejaegher – Bar service
James Merrett & Jack Hellerstedt – Clean-up & dishes
All Women & Men's squad on the day – Christmas decorations and set-up