A quick reminder, RRC has installed a new system of foot stretchers and base plates, which work with quick release rowing shoes. We have recently expanded the boats that have the system, it now includes:
Eights: Timothy Evans, Ambush
Fours/Quads: Dennis Beck, Barry Campbell, Karen Doggett, QT, DEMN
Doubles/Pairs: Sesquicentenial, Remigando Fortis, Siberian Tiger, Geraldine Goss, Anthea Amos, The New Double (to be named – currently called Minutes to Midnight)
Singles: Gurrong
The club has a range of both adjustable and non-adjustable shoes, sufficient for everyone, although if a rower prefers rowing with a non-adjustable shoe of their exact size purchasing your own quick release rowing shoes will guarantee this.
Should buying your own shoes be of interest see details below – as Christmas is approaching it may be the ideal items to add your Christmas list.
Benefits of the new system
Crews of different heights/foot sizes can "fit" in the boats much more easily. The days of stuffing socks in the bottom of shoes to make them fit smaller feet, or rowing "feet out" because your feet were bigger than the shoes are past.
Rowing in the correct size shoes can improve a rower's technique and power
Individuals with their own rowing shoes can use them in club boats

Can I buy my own rowing shoes and shoe plate?
You may wish to buy your own shoes and shoe plate (red piece in the diagram) if you row in the boats which have been fitted with the new systems. There are benefits to owning your own shoes: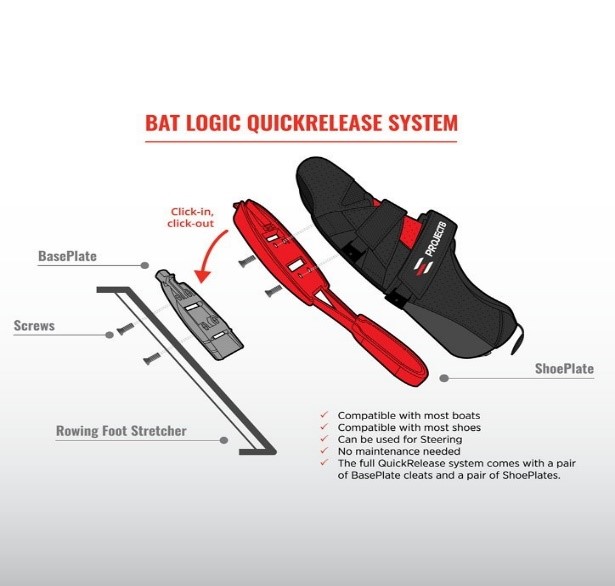 Personal hygiene for your feet, and comfort
Can reduce injury risk – depends on the rowers' biomechanics
Allows for custom fitting of shoes – depending on a rowers' biometrics (eg different lengths in legs can be catered for with shims)
Setting yourself up to row in varying boats takes less time
You may use your own shoes on an ergo, as we now have a number of adapter plates available for ergos. Club owned shoes may not be used on ergos.
Compatible Shoe and Shoe Plate Options – Richmond Rowing Club
Not all rowing shoes are compatible with the system RRC has installed. These shoes will.
All rowers will need to purchase a shoe plate to fit their shoes on. An order placed through the club may attract a bulk discount (if 16 pairs ordered) & shared P&H – postage & handling.
Bat Logic also offer an assessment of your legs/feet and recommend appropriate shoes/shims/orthotics.
More information:
Below is some information on the bat logic pro quick release system.
Bat Logic ShoePlate Pro QuickRelease Benefits
Leg length Discrepancy
Bat Logic Shim Pack
Bat Logic system Compatible Brands of Shoes
Barry, our Captain, is also a good source of information as he has completed the conversions, and has some samples.