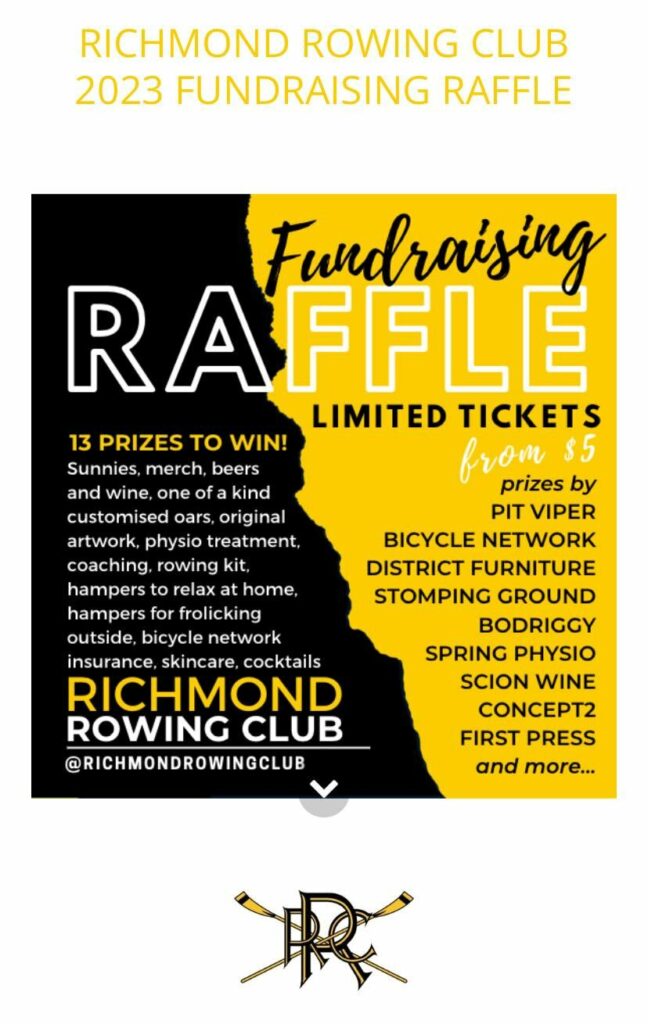 https://www.rafflelink.com.au/richmondrcraffle2023

Prize drawing 23 April at the Club.
There's a new double in the shed and it's currently got a very temporary name.
The committee has decided that we will raffle the opportunity for someone to choose the new boats name.
For just $10 you can choose the name for our new club boat.
Contact the RRC Captain Barry Campbell to get your official tickets.
Draw will be held at the RRC bar after Melbourne Head (23 November).
Note: there are some rules to the names.
1. No boat names already in use- sorry Dennis and Tim there will be no DB3 or TE2
2. RRC Committee to approve name – Rude and disparaging names will be vetoed.
3. Official tickets will be placed in a jar and drawn by THOR Tim Evans.
Barry Campbell
Congratulations to our raffle winners! The draw was held at RRC on Christmas Eve, with prize winners as follows:
First prize: one night at the Park Hyatt: Barry Campbell
Second prize: beautiful woollen throw rug; Cat Hardie
Third prize: Sunday brunch for two at Collins kitchen: Emily Dunn
Fourth prize: stunning eco-design 'coffee grounds' bowl: Ainsley Raggett
Many, many thanks to all those who helped with selling of raffle tickets, and special congratulations to Ainsley who individually sold the most tickets (20). The great news is that fundraising from this raffle and other events has enabled the purchase of a Club A grade Swift single scull – pictured here and the committee has matched the money raised to buy a second one. These are great additions to our fleet.


Most of all, our grateful thanks to ROCHELLE STOKES and LAURENT DEMAY who very generously donated the fabulous prizes.
We hope you have all had a great Christmas and Happy New Year from the fundraising committee.